It has been a sensational fishing week with a total of 10 Trophies being caught. The fishing for big Lake Trout was amazing and we are very pleased to welcome the following fishermen to our Lake Trout Trophy Club: Alan Brownstein (101 cm, 107 cm), Bob Slotpole (105 cm), Curt Kohlberg (104 cm), Bob Brownstein (103 cm), Harry Streitler (101 cm), Otmar Staggl (105 cm), Harald Steltzner (105 cm), Lutz Blaschke (107 cm). Bob Brownstein also caught a huge Pike of 114 cm with the fly rod and therefore becomes a member to our Pike Trophy Club as well. Congratulations to everybody, it can't get much better than this!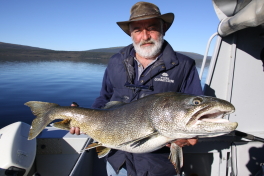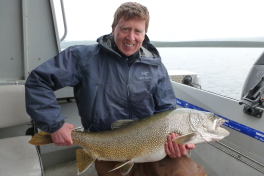 It looks like the big Lakers were just jumping into the boat, but that is not the reality. We had to work really hard to find fish and to wait until they became active. Sometimes there was nothing happening for a couple of hours and all of the sudden the action was on.
The Pike fishing was kind of the same, we had great action for one day on a lake and fishing the same day on another lake produced almost nothing. We were fishing a remote Lake and could see many Trophy Pike swimming around the boat. They just ignored anything we threw at them – it was very frustrating to see all these big fish and not catching them.
The Grayling fishing was again world class everywhere we fished. Alex, who was hunting the Trophy Grayling to become a member of the Grand Slam Club unfortunately didn't' succeed. His biggest Grayling was just 1.5 cm short of the Trophy mark. Julius is still staying with us and is in pole position to get the Grand Slam. He also needs a Trophy Grayling and he is working hard on this.
We did a fly out trip to the coast of Alaska to fish for Silver Salmon. Usually it would be too early to do this but there were a lot of fish and our guests very successful. It could mean two things: Either the fish are early or it could be a very big run. We think that it is going to be an excellent run.
The week started with some rain but no winds. Then it cleared up for one day before the next front moved in, which also brought us higher winds. We had one beautiful warm day with no wind in the middle of the week before it got windy again. Solid rain on the last day ended a wonderful fishing week with many good memories.