Although we didn't catch any Trophy fish it has been a very successful fishing week. The very strong winds made fishing a challenge and we couldn't fish all the Lakes we would have liked to. So our main targets were basically rivers or lakes that were a little bit sheltered. Our guests did really well fishing for Grayling, Rainbow Trout and smaller Lake Trout in the rivers.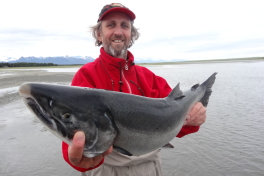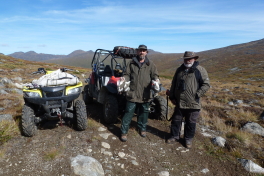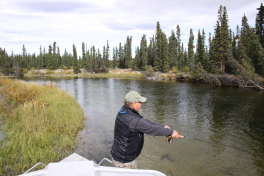 There are more and more Lake Trout and Whitefish entering the rivers for spawning. Very soon these rivers will be literally full of fish. We did a three day trip to a remote Lake with a group of fly fishers and they caught more than 40 Lake Trout. This is quite an achievement because the wind was extreme and they had quite an adventure in the rough water as there were waves up to 3 meters high. The weather was giving us a real hard time and we could do just one trip to the Alaskan coast for the Silver Salmon. But it was great fishing and everybody limited out in no time. As we have guessed it is a very strong run and the fish are abundant. The reason for our strong winds was two major low pressure systems in a row at the coast of Alaska.
We did a "test-fishing" in a remote Lake for Pike and what a surprise it was, almost every cast a fish! A couple of years ago natural gas in the winter has killed most of the Pike in that Lake and now it is back. So we are pleased to add another destination for Pike fishing.
Our small game hunting season has started on September 1st and of course we went out to get some of the Ptarmigan or Grouse. We had a tough time to get Ptarmigan as the Moos Berries were all dried out from the hot summer weather. These Berries are the main food source for the Birds, so no Berries means no Birds. But we managed to get 3 Rock Ptarmigan for a delicious lunch out in the bush.
The strong winds from the south were really warm and the colours on the leaves have not really started to turn. We did not have any frost so far either. Basically the weather was nice and warm for this time of the year but as mentioned above the wind was brutal. But even in the worst possible conditions we always find and catch many fish!