0
Trophy Club Entries (Since 2013)
0
Largest Pike caught (cm)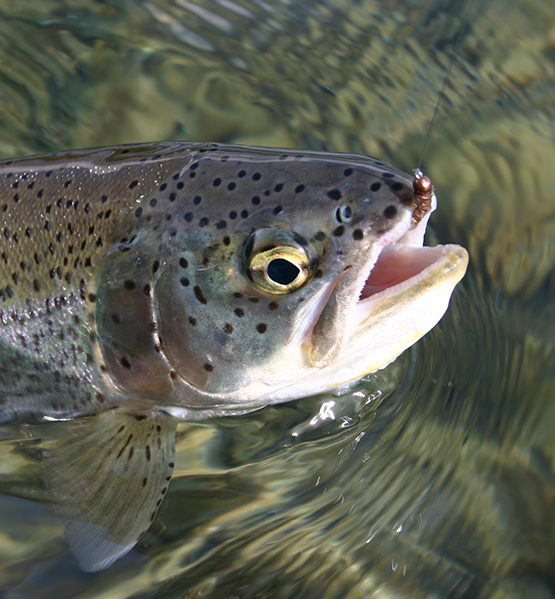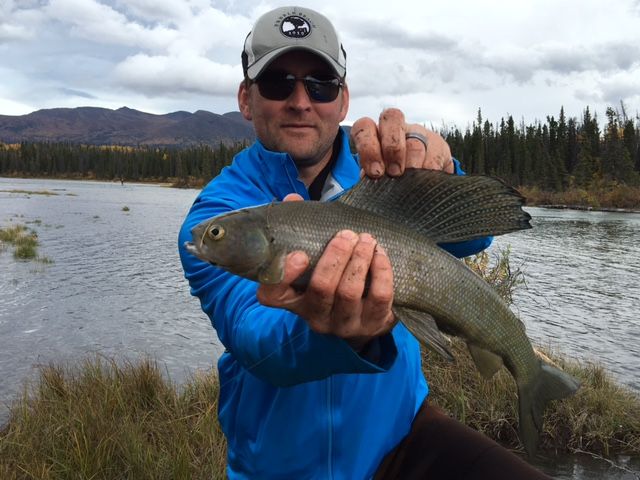 Dalton Trail Lodge is located on the shores of Dezadeash Lake, bordering Kluane National Park. The lake is 16 kilometers long and up to 8 km wide. With your favored technique (fly fishing, spin casting or trolling) you can catch Lake Trout, Pike, Arctic Grayling, Whitefish and Burbot. The outlet of the lake (Sixmile/Dezadeash River) and the many creek inlets offer the river- and fly-fisherman non-stop action. There are well maintained 16 foot Aluminium boats with 15 HP 4-stroke engines at your disposal.
Thanks to the fantastic location of our lodge you have the chance to fish more than 20 different waters. Besides the species already mentioned you can catch Rainbow Trout, Dolly Varden, Kokanee, Inconnu and Salmon. A few rivers and lakes you can fish on your own whenever you feel like it. For other areas there are experienced guides to help and advise you. We would like to suggest that you budget in a couple of extra days with guide to experience the full flavor of the Yukon.
We especially would like to recommend an overnight trip to one of our outpost cabins at Frederick, Aishihik or Moraine Lakes. We access these remote destinations with jetboat, ATVs, 4x4 trucks or we fly in. Far away from any form of civilization you can wet your line in rarely fished waters. Your sleeping quarters are in an idyllically situated rustic wood cabin. Although in the wilds your taste buds will not be forgotten. Your guide prepares a nice steak dinner and a hearty breakfast the next morning. Of course these excursions give an excellent opportunity for wildlife viewing.
Fish Species in Kluane Country
| | | | | | |
| --- | --- | --- | --- | --- | --- |
| | Max. Size | Ave. Size | Available | Best Time | Bait |
| Lake Trout | 117 cm | 70 cm | May 20 - Oct. 10 | May 20 - Oct. 10 | big lures and streamer |
| Pike | 129 cm | 80 cm | May 20 - Oct. 10 | May 20 - Oct. 10 | big lures and streamer |
| Arctic Grayling | 56 cm | 36 cm | May 20 - Oct. 10 | May 20 - Oct. 10 | flies, small lures and spinner |
| Rainbow Trout | 64 cm | 36 cm | May 20 - Oct. 10 | May 20 - Oct. 10 | flies, small lures and spinner |
| Kokanee | 51 cm | 41 cm | June - Sept. | until mid July | flies, small lures and spinner |
| Dolly Varden | 51 cm | 36 cm | May 20 - Oct. 10 | June - September | flies, small lures and spinner |
| King Salmon | over 70 lbs. | 25 lbs. | June - July | June - July | salmon eggs, lures, spinner, salmon flies |
| Sockeye Salmon | over 12 lbs. | 7 lbs | June 25 - Sept 30 | July - September | salmon eggs, lures, spinner, salmon flies |
| Coho Salmon | over 20lbs. | 9 lbs | Aug. 25 - Oct. 10 | September | salmon eggs, lures, spinner, salmon flies |
Packages include transfer from Whitehorse to the lodge and back to Whitehorse, all your meals and accommodation (single or double room with private bathroom), motorboat and gas, one day with guide, all rentals from the lodge (including ATVs, canoes, mountain bikes, fishing and camping gear) and all taxes. We also offer an "all inclusive package" or you can book an Action package that includes 5 guided excursions.
Here are a few examples of the waters you can access while staying at Dalton Trail Lodge:
Dezadeash Lake is a warm and shallow lake, rich in plant and animal life. Here you can catch lake trout up to 30 pounds, northern pike to 20 pounds, arctic grayling, whitefish and burbot. Our guests pair up for motorboats on the lake. We brief you on safety and lake travel and we'll even tell you about the secret hot spots.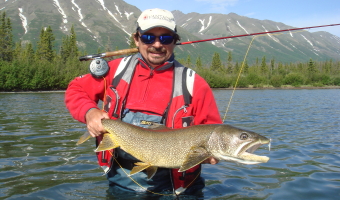 This is a crystal clear blue river offers world class fishing for arctic grayling, rainbow trout, kokanee and lake trout. A jet boat trip takes you to these clean, clear waters that drain from beautiful Kathleen Lake. This is a fly-fisherman's dream. Watch for black bears, moose and bald eagles along the way.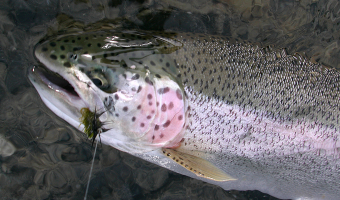 A few years ago we were given access to a trapper's hand-built log cabin on the Kluhini River/Frederick Lake. Situated in a protected land area, this cabin can only be reached by ATV, foot, horseback, plane or - in high water only - by jet boat. The Kluhini River features world-class arctic grayling fishing with fish up to 55cm. You can also fish for pike and lake trout and spot for moose, bear, beaver, lynx and mountain sheep.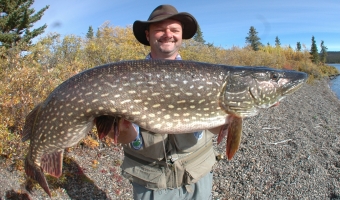 Using a 4x4 truck, we travel up an old mining access road, cross two rivers and after two hours of driving, arrive at beautiful Mush Lake. We have a motor boat stored on the shore. These waters are fished virtually exclusively by us. Both Mush and Bates Lakes are home of trophy sized lake trout. We release all fish over 26 inches. You can test your strength on these lakes, we haven't always won! The river has an excellent poulation of large arctic grayling. And when you aren't fishing, take a look at the beautiful mountain scenery that surrounds these lakes. Your chances of spotting wildlife are excellent. A moose wandered right past our campfire at Mush Lake once!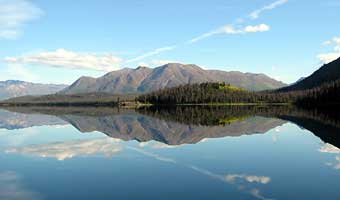 This is the best water for giant lakers. Last year we caught many fish over 40 pounds, some even over 50. We travel on the big lake with well equipped 140 HP boats and we have a nice log cabin for overnight trips.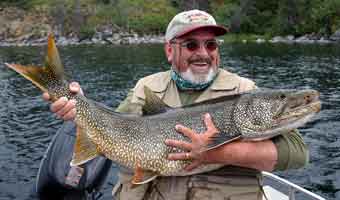 This salmon river is only 30 minutes from the lodge. In July we travel by jet boat to the best pools for king salmon. Fly or bait-fishing, your catch is almost guaranteed. If you're tired of the crowds and hoopla of Alaska's salmon rivers, then the Tatshenshini is for you. A wild river, surrounded by even wilder scenery. Your fishing experience is miles away from "civilization". At peak times, our guests can catch over ten salmon per day and catches over 50 pounds are not exceptional. The nearby Takhanne River's ice-clear waters are paradise for the fly fishermen. In fall, Sockeye and Coho salmon ascend the waters.
May 27 - June 3: $ 3,900.00 CAD
Sept. 23 - Sept. 30: $3.900.00 CAD
Other Rates
Additional nights $550.00 CAD
Seven nights all incl. $7,200.00 CAD
Travel Planning
There are daily flights to the Yukon with a stop-over in Vancouver, British Columbia, from anywhere in the world. There is also a weekly non-stop flight from Frankfurt to Whitehorse.
Following is a list of important travel information that you may wish to print for future reference. Just click on the link and print the document.