Things are busy here at Dalton Trail Lodge. Our first clients arrived on Sunday and are out fishing today. The lakes are open and the weather has been nice. Last winter was a mild one; we only had about 3 feet of snow, when it can at times be as deep as 6 feet. The temperature was warmer than usual as well. Most of Canada has been experiencing El Nino which was most likely the cause of all the warm weather. We have been preparing for this season for some time now.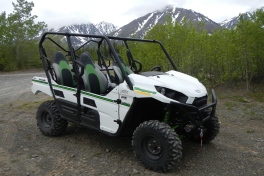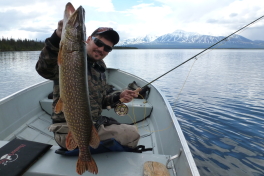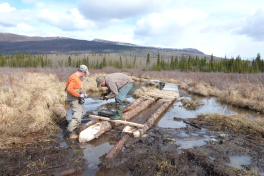 We extended the largest bridge on the Frederik Lake trail to our cabin by another 30 feet. We have prepared and tested all the boats so that they are ready to go. Last week we brought a small boat into a very secluded lake that is only accessible by air or overnight ATV trip. This lake is full of Northern Pike that have never seen a hook before.
We added another addition to our ATV collection, an 800cc Kawasaki Teryx. This four seat adventure machine will be able to bring clients to many of our fishing destinations.
The past week we did some guide training and, of course, did a little fishing ourselves. We had a blast, caught lots of big Lakers, Pike, Grayling and Kokanee. The fish are active and we are very excited to get our clients out in the action and experience the world class fishing that we offer.
Your Dalton Trail Lodge Team