Another week has gone by at Dalton trail lodge, everything is going great. The weather has changed and it is quite a bit colder. We had a lot of snow fall in the mountains and even a few days of flurries at our level. Although it was cold it did not stop the fish from biting.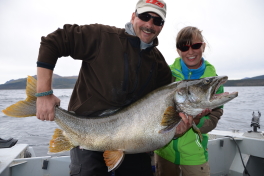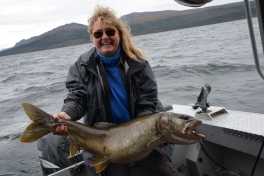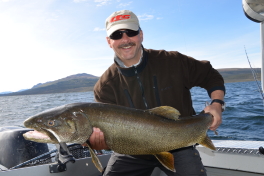 The Jager family had an amazing three day trip to our outpost cabin and each caught a trophy Lake Trout. A special congratulation to Carina Jager who caught an amazing Lake Trout trophy that is now the new lodge record! It was a massive fish that measured 117.5 cm. Her brother, Lars Jager, caught an impressive Lake Trout trophy as well that measured 105cm. Their father, Joerg Jager, landed a Lake Trout trophy of 103cm and their mother, Andrea Jager, got one that was 101cm. Congratulations to all of you!
Due to the snow in the higher areas we were not able to reach our other out post cabin; there were too many trees down and too much snow on the pass. We have already started to send teams out with chain saws to clear the paths so we can once again get to these lakes.
Pike fishing was fantastic this week again with many fish being caught that were very close to the trophy mark. The water levels have come up from the precipitation and we are able to do more trips down the river with our jet boat. We are still doing this very cautiously and as light weight as possible.
While down the river and in other fishing destinations our clients were able to land some beautiful Grayling. Some of these fish were also very close to trophy size.
The forecast is calling for a break in the weather but it will still stay fairly cool outside. Things are moving along quickly and we are looking forward to the arrival of our new guests and also some well-known long time clients.
Your Dalton Trail Lodge Team