Things are going great here at the lodge. We are starting to get busy again and clients enjoyed the beautiful weather. This year we have had amazing weather with many calm, wind free days. We did a few trips to our outpost cabins and were successful in landing some trophy fish. Congratulations to Heinz Tschertner for his trophy Pike that measured 107cm and also congratulations to Jerry Schiefelbein who caught a trophy Lake Trout of 106cm.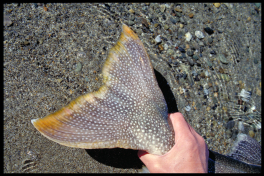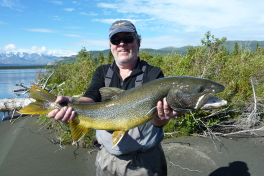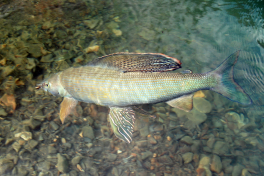 When we were out exploring and cutting a trail to a very remote lake, night fell faster than expected and our guides had to be moved from the forest to a nearby road by helicopter. The helicopter lifted our ATV's from one spot to the other and then lifted the people out after. It was quite an adventure.
The Grayling fishing was once again outstanding this week. The quality and size of these fish caught this year is amazing. So many beautiful fish close to the trophy line as well as many that were trophy size.
The trout have been very active as well. Right out in front of our lodge, by the two creeks that run on either side of the property, the trout have gathered to enjoy the cold water coming from the mountains. This year we are lucky to have more large sized Trout so close to the lodge.
The Grayling also really enjoy the cold water.
Pike fishing is great; some of the lakes that had slowed down in previous years are full of hungry fish again.
The nice weather has been perfect for fly fishing. Due to a couple of chilly nights some of the leaves have started to change color. It is amazing how bright they can get in the fall. All is good at the lodge and we are looking forward for the following weeks.
Your Dalton Trail Lodge Team