Things are great here at Dalton Trail Lodge. This was one of the last busy weeks of the year. Throughout the week we had a lot of rain but with it calm wind free days. The precipitation did not stop the fish from biting. This week we had no less than 5 trophy Lake Trout and one huge trophy Pike.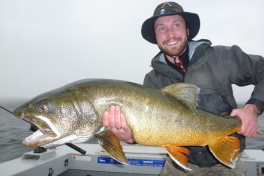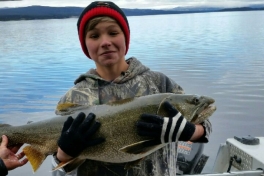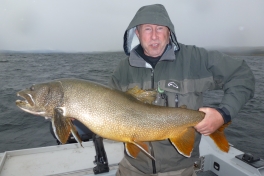 To start we would like to congratulate Adam Quipp for his 102cm trophy Lake Trout, also his son Jack Quipp caught an impressive Lake Trout trophy of 106cm. Walter Aeschbacher caught a 106cm Lake Trout and his son Manuel Aeschbacher got a Lake Trout trophy that measured 101cm. Cesare Santini landed a trophy Lake Trout of 103cm. Peter Nuesch got the only trophy Pike of the week, it was an impressive fish that measured 115cm!
Along with the Lake Trout fishing being hot that Grayling fishing has been fantastic as well, we have been going to the far end of one of our lakes and then hiking a short distance up to another lake that is loaded with them. Many of these fish were very close to the trophy line.
Fall is here and with it all the leaves are changing color. The hills and mountains are now an amazing array of oranges, yellow and red. Our guests have been out picking King Boletus this past week, they have had the chance to eat these freshly picked mushrooms and many of them are drying them to take home.
With the beginning of September small game hunting has opened. Our clients have been out bird hunting quite a few times. They bring these birds home and have them freshly cooked at our lodge or right out on the mountain.
It is very exciting time here at the lodge, all is good and we are looking forward to the last few weeks of the season.
Your Dalton Trail Lodge Team