What an amazing week we had here at the lodge. The weather was unbelievable with barely any wind or rain. The wind free days were a bit slower but we were still able to land plenty of fish. We would like to say a special congratulation to 10 year old Sabrina Isler; she went with her family on an ATV tour to one of our remote locations and caught a wonderful trophy Grayling that measured 49 cm! Walter Weber caught an amazing Lake Trout trophy that was 110cm. Also congratulations to Andreas Akeret for landing his trophy Lake Trout that was 105cm in length.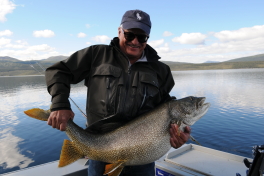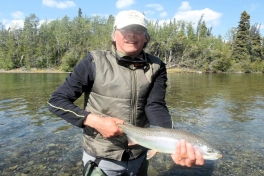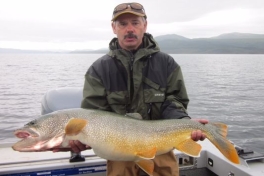 This week we had a fly out trip with the float plane to a very special secluded lake, while there our clients experienced some truly world class Grayling fishing.
The Rainbow trout fishing was exceptional this week with many fish reaching the 40cm mark.
Once again while we were fishing for Lake Trout our guest were lucky enough to catch some Kokanee Salmon. We landed a lot of beautifully colored fish this week.
Later in the week the fishing pick up at all our lakes that we fish and the species that we fish. While out on one of our ATV trips the guide and his clients were able to view a large grizzly bear from a safe distance. They loved seeing this beautiful animal in its natural habitat enjoying the sun and eating plant roots.
All is good here at the lodge and the summer is going by smoothly.
Your Dalton Trail Lodge Team