It was another busy week at the lodge. We once again had a full house. The fishing has been great all around. We would like to congratulate Pierre Lichtenhahn for catching a trophy Grayling that measured 49cm. Lubos Frank landed a trophy Lake Trout of 107cm and his son Adam Frank got a Lake Trout trophy that was 103cm. Like last week we were able to land another trophy Lake Trout that is second biggest in our records, congratulations to Claude Robinet for his 115cm Trophy, he also caught another Lake Trout trophy of 101cm. His father, Marc Robinet caught a Lake Trout trophy that measured 108cm.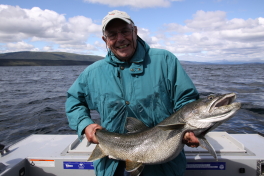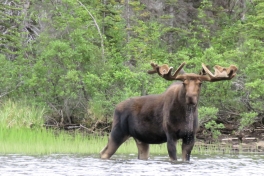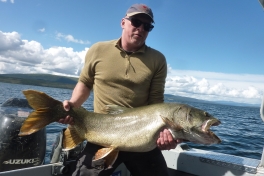 We had some super calm and hot days this week, the nice weather made it perfect for fishing on our clear waters. Along with the nice weather we had a few thunder and lightning storms, this can be a danger for forest fires due to the dry climate. No fires were reported anywhere near our fishing spots. Luckily our guests were also able to miss the rain for the most part.
Due to the low water levels in our river systems we are limiting the jet boat trips for the time being, we are only going down the river with one guest in the boat. A large group of our clients did a fly out trip to Yakutat for Salmon. The river was full of Pink Salmon but our guests were able to catch some Sockeyes too.
Grayling fishing has truly been world class lately with many fish caught that were over 40cm.
Rainbow trout fishing was great, clients love the way these fish jump out of the water as they reel them in. Everything is going smoothly here at the lodge and we are always looking forward to seeing old friends and making new ones.
Your Dalton Trail Lodge Team