Another week has gone by and it was once again successful. Although the wind picked up a bit there was still a lot of sun shine and nice conditions. Congratulations to our new Trophy club members; we got no less than 6 Lake Trout trophies this week, Asher Chaimovitch 104cm, Oren Chaimovitch 106cm, Franky Schorn 102cm, Fred Sistig 106cm, Michael Moehrer 105cm and Olivier Brunner 106cm.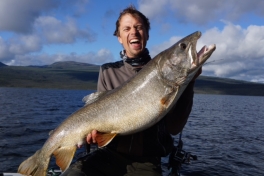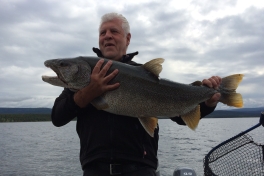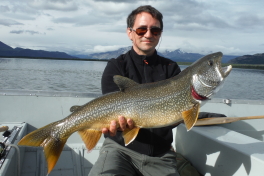 We have always been proud to say that we cater to international clientele. One night this week we had guests from 7 different countries staying with us. We also had a couple on their honeymoon here, congratulations again to Samantha and Luca from Italy.
Pike fishing picked up tremendously in most of our lakes.
The big trout got a little harder to catch but we were still able to land some trophies.
The King salmon have not yet entered out local fishing holes and it appears to be a late run. We still expect them to get here soon.
Grayling fishing has been sensational as usual with many fish close to the trophy mark being caught.
There seems to be a very healthy Moose population this year. A lot of our clients were able to see Moose with their young, this year's babies.
We sent two big trips to our cabin at Frederik Lake. Four clients and one guide went in with the ATV's, while there they were able to land a huge Lake Trout of 95cm!
Fishing has been great, our clients have been very happy and we are looking forward to meeting more great people and giving them the chance of a life time to catch Yukon fish.
Your Dalton Trail Lodge Team