This week at Dalton Trail Lodge we experienced great weather and fishing. It was nice and warm all week with only a little wind. We had successful trips to a very large array of destinations. Fly fishing, casting and trolling all worked well. We had a full house toward the end of the week and therefore were able to get a lot of opportunities to catch trophy fish.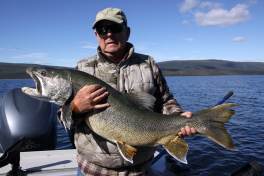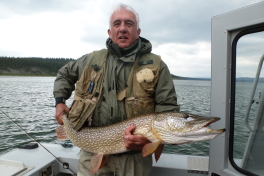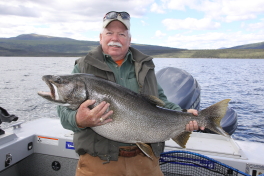 This week we caught no less than 9 trophy fish. We would like to welcome the following people to our trophy club: Adi Mock caught a beautiful trophy Grayling of 48cm. Butch Balzer caught a trophy Lake Trout of 107cm and Leon Gerwin caught two trophy Lake Trout (100 and 101cm). Anton Henning caught a huge trophy Pike of 112cm and a Lake Trout that measured 101cm. Franky Schron caught a Lake Trout of 107cm. A longtime client of ours, Howrad Garvey brought his grandson Koen Fogleman who was able to land a Lake Trout of 107cm. Carlo Castelli caught an amazing trophy Pike of 112cm, he was able to do so fly fishing from our outpost destination.
We had the pleasure of having Colin McKeown from the New Fly Fisherman here this week shooting footage of the fishing as well as the lodge for an upcoming show. They got some amazing shots of both the fishing and environment while here, including some footage of a bald eagle feeding its young chicks some fish from the river.
Although we do not target Kokanee Salmon, because the population crashed about 10 years ago, we caught a lot of these beautiful fish as "by catch". It looks like we will be enjoying this exciting fishery again soon.
The first King salmon are through the weir and we are expecting them to get to our salmon fishing destination soon. All is good and things are running smoothly.