Our guests experienced another great fishing week with many nice catches. We would like to welcome the following fishermen to our Pike Trophy Club: Roman Staff (112 cm), Stefan Trottmann (125 cm), Thomas Frey (106 cm) and last but not least Marcel Trottmann (109 cm). Congratulations to all of you and well done!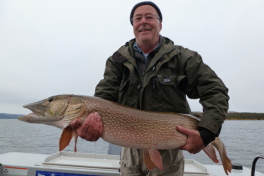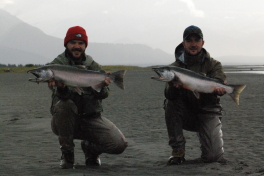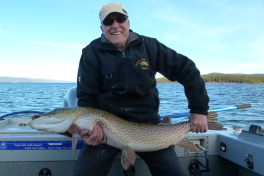 Stefan's Pike was huge, measuring 125 cm, which is the largest Pike of the season so far.
We had a small weather window to do a fly out trip to the coast of Alaska for the Silver Salmon. So we chartered a bigger plane and flew out a large group. The fishing was phenomenal so was the weather. We fished very close to the ocean and all the fish were super fresh and sea-liced. When the tide came in we had non-stop action and many were also caught with flies. It doesn't get much better fishing for these aggressive Salmon in such a beautiful surrounding!
We also did a trip to a very remote lake but unfortunately all the Grayling have moved from the river into the lake to spend their winter.
But the fishermen were rewarded with fantastic Pike fishing and all the Pike were in the range of 90 cm to 103 cm.
River fishing continued to be excellent and our guests enjoyed catching a lot of Whitefish, Lake Trout, Grayling and Rainbow Trout.
We have seen quite a few Moose and two guests were able to watch a young Bull from a very short distance for a long time. This is quite an experience as well!
The week started with beautiful Indian Summer weather. The sunlight made the beautiful fall colours even more spectacular. The temperatures are slowly dropping but if you dress accordingly there is no problem fishing in these conditions. Towards the end of the week we had windy conditions but we still caught plenty of fish. So all in all a fair weather week with excellent fishing!