Our guests experienced another fantastic fishing week with a total of 5 Trophies being caught. Heinz and Hans both caught a Lake Trout Trophy (106 cm and 100 cm) and Marco was the most successful Pike fisherman with two Trophies of 107 cm and 108 cm. Gustl caught the biggest Pike of the week measuring 110 cm and Bruno landed a beautiful Trophy Grayling of 48.5 cm. Congratulations to all of you and welcome to our Trophy Club!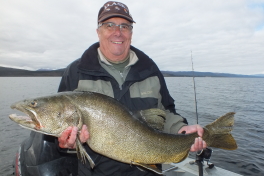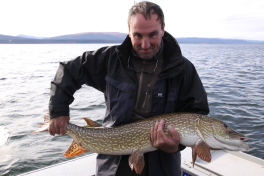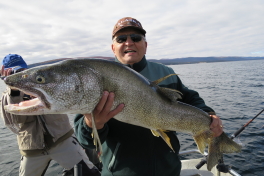 River fishing continued to be world class everywhere we went. There are now a lot of Lake Trout, Grayling and Whitefish in the systems and there will be even more moving in. This is a great time of the year for the fly fishing enthusiasts but the spin fishermen did equally well.
Fishing for Lake Trout has been great in our lakes as well. Although the bigger fish were harder to catch as they are on the move for the spawning grounds.
Pike fishing was overall very good and besides the Trophies more nice fish up to 100 cm have been caught.
Unfortunately we couldn't do any fly out trips to the coast of Alaska for the Cohos. The reason for a change wasn't the weather but all the rain from last week combined with the biggest tides of the month blew out most of the rivers. This was too bad as the first half of the week was definitely flyable.
We are seeing a good run of Sockeye Salmon in our local river and we did one trip with good success. So far over 11'000 Sockeyes have gone through the weir and this is above average.
All the leaves have changed colour and it is a spectacular time of the year. The weather was cooperating for the first half of the week. We had lots of sunshine and little winds. Then a massive low pressure system settled in around the Gulf of Alaska and didn't move much. This brought us strong winds from the South and unusual warm temperatures. No rain though but the wind made the fishing challenging. But all in all another wonderful week with great company as well!