It has been a great week with many nice fish being caught. Heinz Tschertner caught a Trophy Lake Trout of 101 cm as well as Rolf Gubelmann with a Trophy of 105 cm. Congratulations to both of you and welcome to our Trophy Club!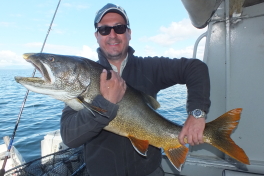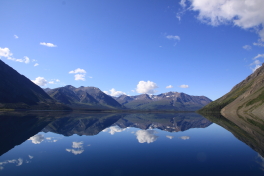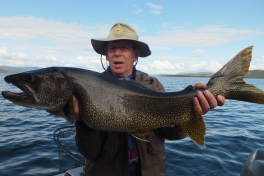 Lake Trout fishing was overall excellent and besides the Trophies many more nice ones were caught while trolling. More "smaller" Lake Trout have moved into our rivers and our guests enjoyed catching them on flies or lighter spinning gear. And the good thing is that this is only the beginning of great river fishing as there will be a lot more fish coming in the rivers in the next weeks. Our rivers are running lower than usually this time of the year which is not a bad thing at all. It makes the fishing easier and more successful.
Fishing for Grayling was again fantastic and many nice fish up to 45 cm were caught. We did a couple of trips to very remote lakes and rivers and the fishing there was out of this world. There were so many Grayling that the fishermen didn't bother about setting the hook. They just wanted to see the fish taking the dry fly from the surface and then letting it go.
The Rainbow Trout were also very active and our guests enjoyed catching many nice ones up to 45 cm.
It looks like the Silver Salmon run has now started at the coast of Alaska. Weather permitting we will do a couple of fly out trips at the beginning of next week.
The week started with beautiful and calm weather but about mid-week we had a full day of rain. Not so nice for the fishermen but certainly good for the mushroom. The next days were basically a mix of sun and clouds with stronger winds from the south. The weekend was nice again and hardly any wind at all. So all in all it has been a very successful fishing week with fair weather as well.