It has been a great fishing week with finally good weather as well. After all the wind it was a real treat to see calm weather and lakes that looked like glass. But not only the weather was fair, the fishing has been fantastic too! The Prueger Families had great fishing on a remote Lake where they caught many big Lake Trout including two Trophies of 101 cm and 106 cm. Julius Jun. was the lucky angler who caught the two biggest Lake Trout. Christof Prueger caught a Trophy Pike of 105 cm and Rolf Gubelmann a beautiful Trophy Grayling of 48 cm. Congratulations to all of you and welcome to our Trophy Club!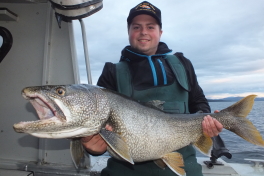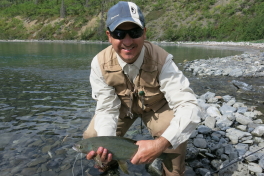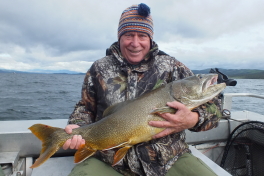 It is certainly nice to see that 3 different species of Trophies were caught and that's what makes the fishing here so special – so many waters and such a large variety.
The first Lake Trout have entered our rivers, not in big numbers yet but enough to keep our guests happy catching them.
Grayling fishing was again world class everywhere we fished. This is a great time of the year for the fly fishing enthusiasts as the rivers are low and clear and will stay in mint conditions right to the end of our season.
Fishing for Rainbow Trout was excellent as well and our guests landed several big Bows around 50 cm.
We planned to do a fly out trip at the coast of Alaska for Silver Salmon but had to cancel. The rivers have dropped though but there were not enough fish yet to make the trip worth. It is still early in the run and we will fly out only when our guests have a fair chance to limit out.
The first leaves are turning and this is a clear sign that autumn is coming fast. As mentioned above the weather was very enjoyable through the whole week. Together with the fantastic fishing you couldn't ask for more. Great week with many happy faces and great company as well!!