Although it has been one of the windiest weeks we have ever experienced the fishing was absolutely world class. Ted Huhtalo caught the biggest Lake Trout of the season so far measuring 113 cm. What an impressive fish! Franz Wipfli also caught a beautiful Trophy Lake Trout of 100 cm.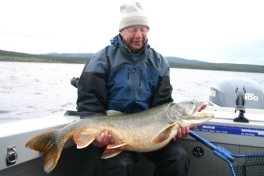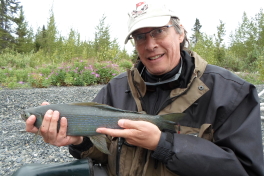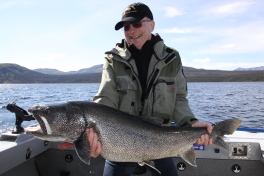 Generally the Lake Trout fishing was slower than the previous week and the bigger fish harder to find. It was also not easy to troll in these conditions and due to the wind some areas of the lakes couldn't be fished.
Fishing for Grayling was out of this world and we are very pleased to welcome the following fishermen to our Grayling Trophy Club: Ted Huhtalo (48 cm), Paul Serveau (49 cm), Dominique Bagur (48.5 cm, 49 cm), Burkhard Koehler (48 cm). Congratulations to all of you and nicely done! Besides the Trophies our guests caught plenty of nice Grayling close to the Trophy mark. The fishing was great everywhere we went and also the rivers are in prime conditions. All the waters are running low and clear.
We didn't do that much Pike fishing but the trips we did were successful with nice ones up to 100 cm being caught.
We have the first reports that the Silver Salmon are starting to run the rivers at the coast of Alaska. So we might do the first trip next week, depending on the water situation down there.
It was raining non-stop at the Alaskan Panhandle and most of the rivers are blown-out. Tropical and very moist air in the low pressure systems caused all that rain and in our area all the wind. It has been really windy with days when we had gusts up to 70 km/h. We didn't get any rain at all and overall it was quite nice and warm for this time of the year. Fishing overall has been very challenging but still was very successful as we have proven with so many big fish. This is the nice thing here - even in the worst conditions we can always fish and catch plenty of them!