We are pleased to report another very successful fishing week with many nice fish being caught. Rick Askew landed a beautiful Lake Trout of 106 cm and Simon Witts caught a big King Salmon of an estimated 40 lbs. Congratulations to both of you and welcome to our Trophy Club!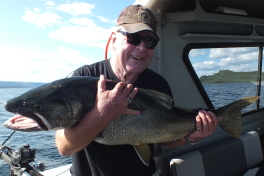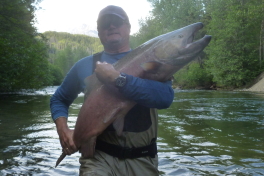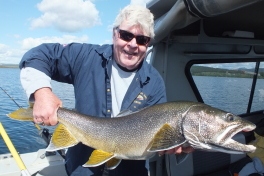 Fishing for Lake Trout was great and besides the Trophy our guests caught many more big fish close to the Trophy mark. It seems that the bigger Lakers were more active than the past two weeks.
Fishing for King Salmon was excellent as well and we were getting a couple of big fish as well. The run is pretty much over and as per July 25th 518 Kings have gone through the counting station. This is below average and it will be interesting to see the final count. We have predicted a good run and we are hoping that they are just a little late.
We didn't do a lot of Pike fishing as our guests were more interested in other fish species so there is not a whole lot to report.
Fishing for Grayling and Rainbow Trout was again excellent and our guests enjoyed a lot of action on light tackle.
The weather has been really nice with the exception of one day when it rained pretty hard. The rain was appreciated to keep the fire danger low and it was also good for the forest and overall vegetation. So far it has been a rather quiet season for forest fires which is good. Some Yukon firefighters have been dispatched to the Northwest Territories and British Columbia to help out getting their fires under control. The wind was cooperating as well and we enjoyed the calm conditions. Overall a wonderful fishing week with many tanned faces!