It has been an exciting fishing week with plenty of action. We are very pleased to report the first Trophy Grayling of the season. Josef Bollag caught a beautiful fish of 48.5 cm on a very remote Lake. Simon Witts landed a big Lake Trout of 101 cm and Ira Sacker caught a massive King with an estimated weight of 60 lbs. What an impressive fish! Congratulations to all of you and welcome to the Trophy Club.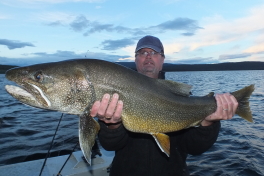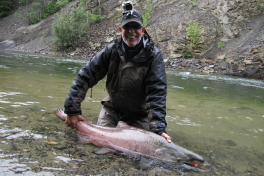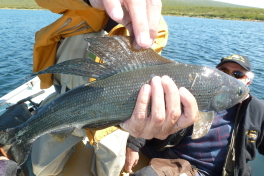 It has been a great week fishing for King Salmon and we finally got into big fish. Besides Ira's huge King our guests caught several big ones up to 30 lbs.
It wasn't an easy week fishing for Lake Trout, especially the big ones were finicky. But we still did very well with many fish in the range of 85 to 98 cm being caught. We had to work really hard to get into bigger fish but we succeeded.
Pike fishing was spotty but our guests still landed plenty of fish up to 90 cm.
Grayling fishing was great with a lot of action on dry flies. It is so much fun to catch these beautiful fish on light tackle. Besides the flies small spinners and lures worked also very well.
Fishing for Rainbow Trout was world class and our guests landed a lot of fish up to 50 cm. Our Rainbow Trout don't grow much bigger but they are for sure hard fighters for their size.
The weather was decent, about half of the week we experienced calm winds which was very much appreciated. On the other days we had some stronger winds from the South which made fishing tougher. But even in the windiest conditions we can get to places where we can fish and catch. We didn't have much rain, just the occasional shower. So no complaints about the weather and certainly not about the fishing!