With more guests at the Lodge we finally got busier and this was also reflected in great catches as we did a lot more trips than last week. Butch Balzer caught the biggest Pike of the season so far measuring 120 cm. He also caught another Trophy Pike of 119 cm so did Leon Gervin with a big Pike of 107 cm. Congratulations to both of you and welcome to our Trophy Club!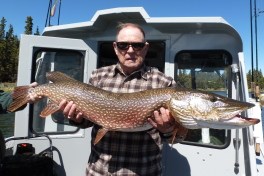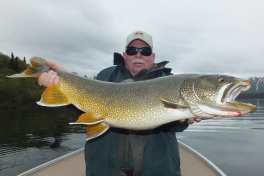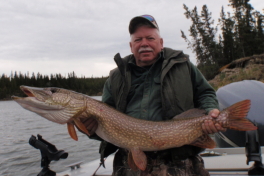 Besides the Trophies our guests caught a lot of Pike up to 103 cm. So generally fishing for Pike was really good.
Lake Trout fishing was excellent too and we did not only catch numbers but also quality. Our guests landed at least 8 good fish in the range of 85 cm to 95 cm and a lot of "smaller ones" around 60 cm. Conditions for trolling were not easy as we had strong winds but we still managed to do well.
Fishing for Rainbow Trout and Grayling was a lot easier as we mainly fish in the rivers. Our guests had outstanding days with non-stop action. It didn't matter if we were using flies or smaller lures. Some really nice Rainbows up to 50 cm were caught and these are quite big fish considering that they don't grow much larger than this.
We finally got a day of good rain which should help not only to keep the fire danger low but also helps to maintain the water levels. Some Lakes are still low and there isn't that much snow on the mountains left. The weather was giving us a hard time, we only had two days with calm winds. On other days we experienced very strong winds from the south with mainly cloudy skies. We are hoping for a large high pressure system to build up so we would see steadier weather. Despite the tough conditions it was a very successful fishing week!