Fishing has been excellent - the only downside was that we did not have many clients here. Again, it is too bad as this would be a prime time for fishing our waters. It is starting to pick up now and for most of the season we will be extremely busy – a lot of weeks we are fully booked. So unfortunately we did not catch any Trophies, simply because we did not do that many trips. But the guests who were here enjoyed catching many and good sized fish.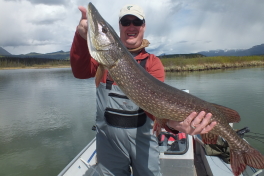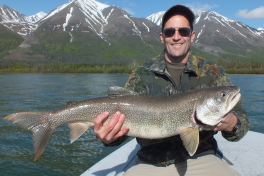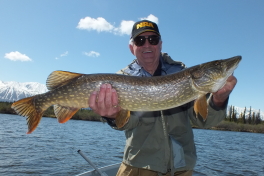 Like last week the fishing for Grayling was world class. It is an advantage for river fishing that the water levels are pretty low. We were able to fish stretches that would normally not be possible because of the run off. So that gives us even more options, especially for fly fishing.
Pike fishing was getting more challenging in some of our Lakes as the water tables are low. They don't seem to be in the usual spots and we have to figure out where they are now. We still experienced excellent fishing but we didn't get the same numbers as we normally do in this time of the year.
Fishing for Rainbow Trout was great and many up to 55 cm were caught. We did extremely well fishing for Lake Trout. We got great numbers but didn't get into the real big ones (yet).
The weather was generally not that great, mainly windy but at least the sun was out lots. Because of the dry spring we already had 11 forest fires in the Yukon burning appr. 612 hectares. This is a quite a number for middle of June but it is not as bad as in Alaska where they had already a lot more fires. There is nothing to worry about as most of the fire activity was way up north.