Our season has officially started with the first clients out fishing. It was a tremendous start with many nice fish being caught. Roger Harrington fished with flies only even in windy conditions and his hard work was rewarded by a beautiful Trophy Lake Trout of 101 cm. Catching such a big fish on a fly rod is a great achievement! Dan Amundson was successful while Pike fishing and he landed two Trophies of 108 cm and 115 cm. Congratulations to both of you and welcome to our Trophy Club.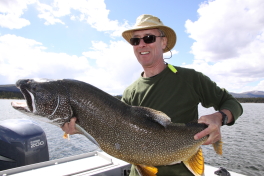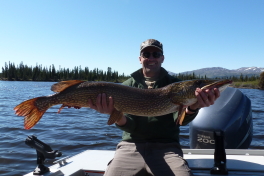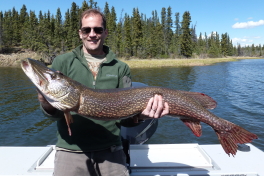 Generally fishing has been fantastic everywhere we went. Water tables seem to be lower than in previous years and there is not much snow left in the mountains. It might be that we will see a low water year in some of our Lakes.
Grayling fishing was superb and many were caught on dry flies.
Also the Rainbow Trout were super active and our clients enjoyed non-stop action.
Pike fishing was hot too and besides the Trophies many more good sized fish around 100 cm were caught.
As always this time of the year fishing for Lake Trout was world class. It is too bad that we didn't have more clients here. We are sure that we would have caught more Trophies.
This time of the year is one of the best in the whole season and everybody who wasn't here for sure missed some great fishing. After we had several weeks of calm weather the pattern changed to southerly winds and mainly cloudier skies. This means that there were low pressure systems moving to the coast of Alaska, basically on the other side of our mountains. Therefore we got the wind and some clouds. But it wasn't bad and we could fish everywhere we wanted. All in all a wonderful opening week!