After a long winter we are excited to post our first news report in 2014. Our winter was anything else but normal. November to middle of January it was very cold und there was also lots of snow. Then it got extremely warm (up to +15° C) and it rained hard. There were days when Haines Junction was the hotspot in Canada – warmer than Orlando / Florida!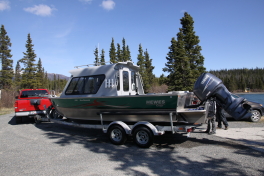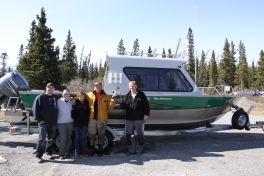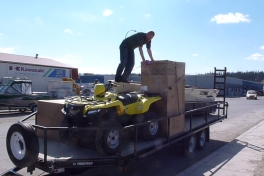 Spring was very mild as well and the ice-out was on May, 18th which is early compared to previous years. By the end of May the woods were already green with all the leaves out. It looks like Mother Nature is about 2 weeks ahead than normal. So we had plenty of time to get all the boats ready and to test them in the water.
For our guests convenience we have bought a new and bigger boat for the larger lakes. It is 22 feet long with an extended transom, has a nice cabin, 200hp engine and lots of room for fishing. It is a really great boat and certainly the new proud of our fleet.
As always this time of the year we invested a lot of money in our infrastructure: New boats, new ATV's, Engines, deep freezers etc. We think it is important to have our equipment on a top level – not only for the comfort but especially for safety.
Plenty of work also around the lodge and the cabins like painting, cleaning etc. Now we are perfectly ready and our first guests will arrive next Monday. They will have great fishing as always early June. Of course we couldn't resist to go out fishing ourselves and it was awesome. Bookings are looking excellent this year and we have only a few openings. It is going to be a great season and we are looking forward to take our first guests out next week!