It has been a challenging fishing week as the weather was not in our favour. Strong winds and cold temperatures were not the best combination for targeting Trophy fish. It was too bad that we could not fish the bigger lakes as the fishing for larger Lake Trout has just started to pick up. So we were basically limited to fish mainly rivers and smaller lakes.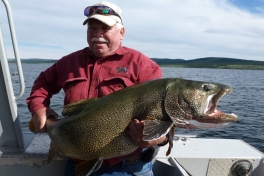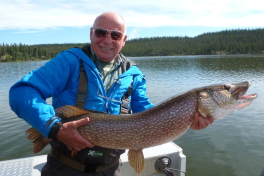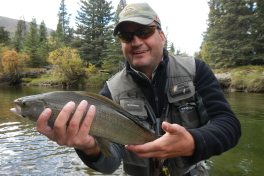 Especially the river fishing was world class for smaller Lake Trout, Grayling, Whitefish and Rainbow Trout.
Pike fishing was excellent as well in some of our lakes.
Also we were not able to do more fly out trips to the coast of Alaska for Silver Salmon. It is a pity as well because the Salmon run well into October and the fishing would have been great.
It has still been a successful fishing week as our guests caught a lot of fish, just the real big ones were missing. Our last guests have left and we are looking back to a fantastic fishing season.
It has been a record year for big Lake Trout with a total of 55 Trophies being caught. This is 14 more than our great year in 2011 and will be hard to beat.
Our guests caught a total of 32 Pike Trophies which is 5 more than last year and about average.
Although we had a fantastic season fishing for Grayling there was only one Trophy caught.It is a matter of facts that the Trophy Grayling is of all species the toughest one to catch. You will get many in the range of 45 to 46 cm but to catch one above 48 cm is quite an achievement.
The run of King Salmon in our local river was above average and the escapement goal was easily reached. That is a good sign and was also reflected in our catches. Also the fishing for Silver Salmon was great at the coast of Alaska.
Besides September we had the most beautiful weather in decades. Many calm days and warm temperatures made the fishing a pleasure. The combination of the great summer and world class fishing was a real treat for everybody. All in all our bookings were satisfying, there were some slow weeks in August but overall we can't complain.
And bookings for next year are looking promising, there are already sold out weeks! We would like to thank our valuable staff for their hard work and efforts throughout the whole season, we had a great team, so thank's a lot! We would like to wish everybody a great winter, take care and best regards from Dezadeash Lake.
Trix, Hardy, Thomas and the whole Dalton Trail Lodge Team