It has been a great week with a total of 5 Pike Trophies being caught. For some reason big Pike became more active than last week – something we do not mind at all! We are pleased to welcome the following fishermen to our Pike Trophy Club: Otmar Staggl (115 cm), Martin Merz (105 cm, 110 cm, 115 cm) and Martin Wyrsch (106 cm).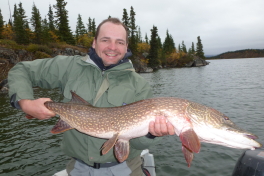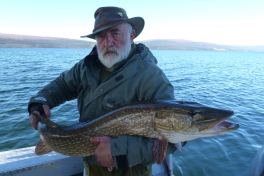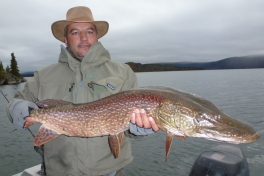 We tried trolling for bigger Lake Trout and we were successful with really nice fish up to 97 cm being landed. It looks like fishing for larger Lake Trout is picking up again. Smaller Lake Trout are abundant now in our rivers and our guests had fantastic fishing.
Great fly fishing for Namaycush, Grayling, Whitefish and Rainbow Trout and many of our guests caught all four species in one day. We did a 3-day trip to a very remote lake and fished a river we only have explored a couple of times. Beautiful nature and world class Grayling fishing rewarded the two fly fishermen who were up to the adventure. What a thrill to fish crystal clear water where you can see every big Grayling coming up to the dry fly!
We could do only one fly-out trip to the coast of Alaska for Silver Salmon because of the weather. The fishing was great besides one day where there were not many fish around. The reason was probably the storm that has moved in which kept the fish of running from the salt- into the fresh water. There are really good numbers of Silver Salmon in almost every river at the nearby Alaskan Coast and in most of the rivers the run goes well into October.
Last week we wrote about the lack of snow on the mountains. Well, this has changed big time and it looks more like fall now. The leaves have changed colours too as we had some frosty nights. The weather was pretty harsh because we had good rain for two days with cold winds from the North. On the other hand we enjoyed two days of beautiful fall weather and no wind at all. All in all a great week with wonderful friends!