It has been a wonderful fishing week with many nice catches. Our main clientele were fly fishermen so basically our fishing was concentrated more in rivers than in lakes. That kind of limits the chance to catch the real big ones. But catching plenty of fish on lighter tackle is as much fun as catching a Trophy fish on heavier gear.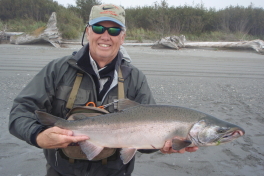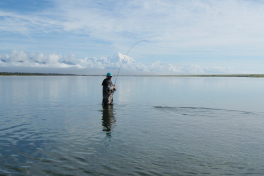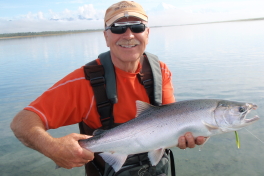 We could finally do a couple of fly out trips for Silver Salmon to the coast of Alaska. The fishing was absolutely amazing. The run is one of the best ones we have ever seen! We fish were close to the ocean and the fish are all fresh and sea-liced and therefore very aggressive. Our guests caught easily like 20 Silvers per day which is pretty good. Imagine fishing a pristine river with full of fish and a beautiful mountain range in the background – it can't get much better than this!
Grayling fishing was world class everywhere we have fished. Fish were very aggressive as they try to get as much food as possible before the winter. Quite a few big Grayling very close to the Trophy mark were landed.
More and more Lake Trout can be found in the rivers now and our guests had very good action either with flies or lures.
Same goes for the Whitefish and we had several clients who did the "small Grand Slam", that means to catch 4 different species of fish in one day.
Pike fishing was really good in some of the lakes. It is interesting that Pike are active in one lake and then you fish another lake where you have troubles to catch one. Well, only they know why…
We also did a few hunting trips for Grouse and Ptarmigan with good success. Not many Ptarmigans around but a lot of Grouse. So we didn't have any issues in getting a wonderful meal.
The weather was better than last week although the first 3 days were on the windy side. Then we had finally some calm days but overcast skies. We haven't got any snow on the mountains yet which is very unusual for this time of the year. Also the temperatures are above average which explains that not all the leaves have turned colours yet. All in all a great week with many happy guests!