The second last week of the season has gone by, things are slowing down here but the fishing is still hot. The weather has gotten colder again; we still got a few nice sunny days though. A longtime client of ours that usually comes in the spring decided to come this fall and see the other side of the season, while here he landed a monster Pike. Congratulations to Ralph Hayes for catching a 118 cm Pike. While out at this large lake Ralph also managed to land another Pike trophy, this one measured 110cm.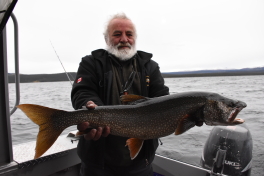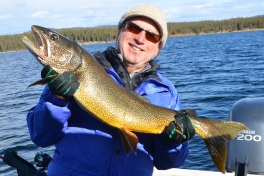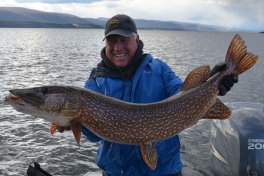 Grayling fishing was once again amazing. Our guests were catching so many large fish that they had a hard time catching a small enough one to bring home for dinner.
The Lake Trout have moved away from their spawning grounds, they are very hungry now that they are finished spawning. Our clients have been catching a lot of these beautiful fish; they can have the most amazing coloring, from blue to orange.
We also did a bit more bird hunting this week. Guests really enjoy bringing them back to the lodge where our chefs cook them in our special lodge recipe.
The snow level is getting lower and lower in the mountains, we even had a bit of snow falling on some of the mornings but none of has stayed on the ground. The water levels are going up from all the precipitation.
The Boletus picking was outstanding again this week. Our guests dried and enjoyed eating a lot of these rare mushrooms. We have already started to winterize some of our boats that are posted at different lakes around the area.
Most of the leaves have fallen from the trees. One more week of fishing and we will do the final shut down for the season. Things are great here at the lodge, winter is upon us so it is time for us to prepare everything for the upcoming winter season.
Your Dalton Trail Lodge Team