This week was one of the last busy weeks of the year. We had a lot of return clients here, friends that have been coming to lodge for many years, some as long as 28 years. The temperatures have dropped quite a bit more, we had a couple days of strong winds that ripped a lot of the changing leaves off the trees. The ground is now covered in a beautiful blanket of fall colors.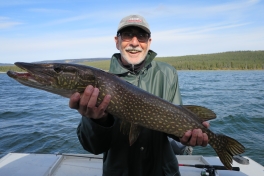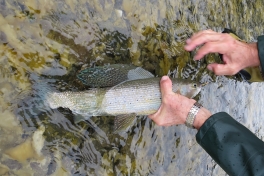 The fishing has been great; all of our species that we go for have been active. We flew out two big groups of clients to the coast this week to do some Salmon fishing, both groups were very successful. A lot of the clients could take home smoked Salmon at the end of their trip.
We sent a couple groups to a small lake close to the lodge to fish for Dolly Varden, a member of the char family. They were able to land a lot of these beautiful fish and also brought some back to the lodge to enjoy for dinner.
King Boletus picking has been amazing again, we set up drying nets for people to dry their mushrooms so that they can bring them home as well. This fall's temperatures and moisture levels have made it supreme conditions for mushroom picking.
Bird hunting was a success as well, hunting Ptarmigan and grouse is an adventure followed by a tasty treat. Cooking these birds on the mountain or bringing them home for our chefs to cook is something special for this time of the year. Our guests ATV to a few different spots that are loaded with these birds, they then stalk them through the low brush bushes and enjoy the thrill of shooting their food.
We have also had some of our clients take advantage of our onsite smoke house; they cold smoked a few different species of fish.
The scenery around the lodge is changing quickly, the fishing is great and everyone is happy. Only a couple more weeks to go and we will be closing for the winter.
Your Dalton Trail Lodge Team